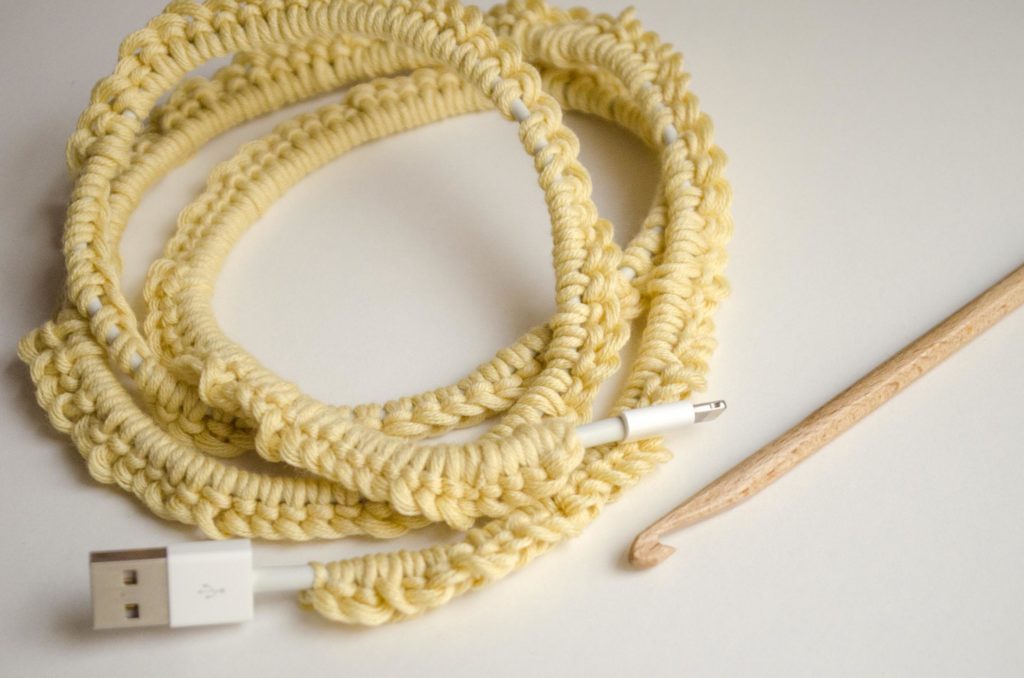 Each time it seems we have more and more electronic devises, and with them more cords and chargers. Sometimes it can even be so hard to find the charger we need, but today we will help you with this tutorial! No more unfindable cords and chargers 😀
Besides, we have taken advantage of those Pima cotton scraps from other WAK projects, total recycling. You can use one or more colors for this project, creating a unique result that you can use with all the cords and chargers you have. That way you will always know which one is yours.
To cover your cables you will need:
– Pima cotton scraps in your favorite colors.
It's very important that the cord you use for this project is in perfect state! Make sure that the plastic covering the inner wires is not damaged or that there are exposed wires.
STEP BY STEP
Make a knot in one of the ends of the cord you want to cover.
Using your crochet hook, single crochet along the length of the cable, so that it's being covered by the cotton.
If you want to change colors to make different straps, change from one color to the other and leave the short yarn tails inside the single crochets.
It cannot be easier! When you are done and reach the other cord end, finish with a knot and hide the remaining yarn inside. You won't mix up your charger ever again. If you need to refresh your knowledge, you can check how to single crochet here.
Had you thought about this way to customize your usb cords? If you started already, don't forget to show us the results sharing your pictures in social networks with the hashtag #weareknitters.